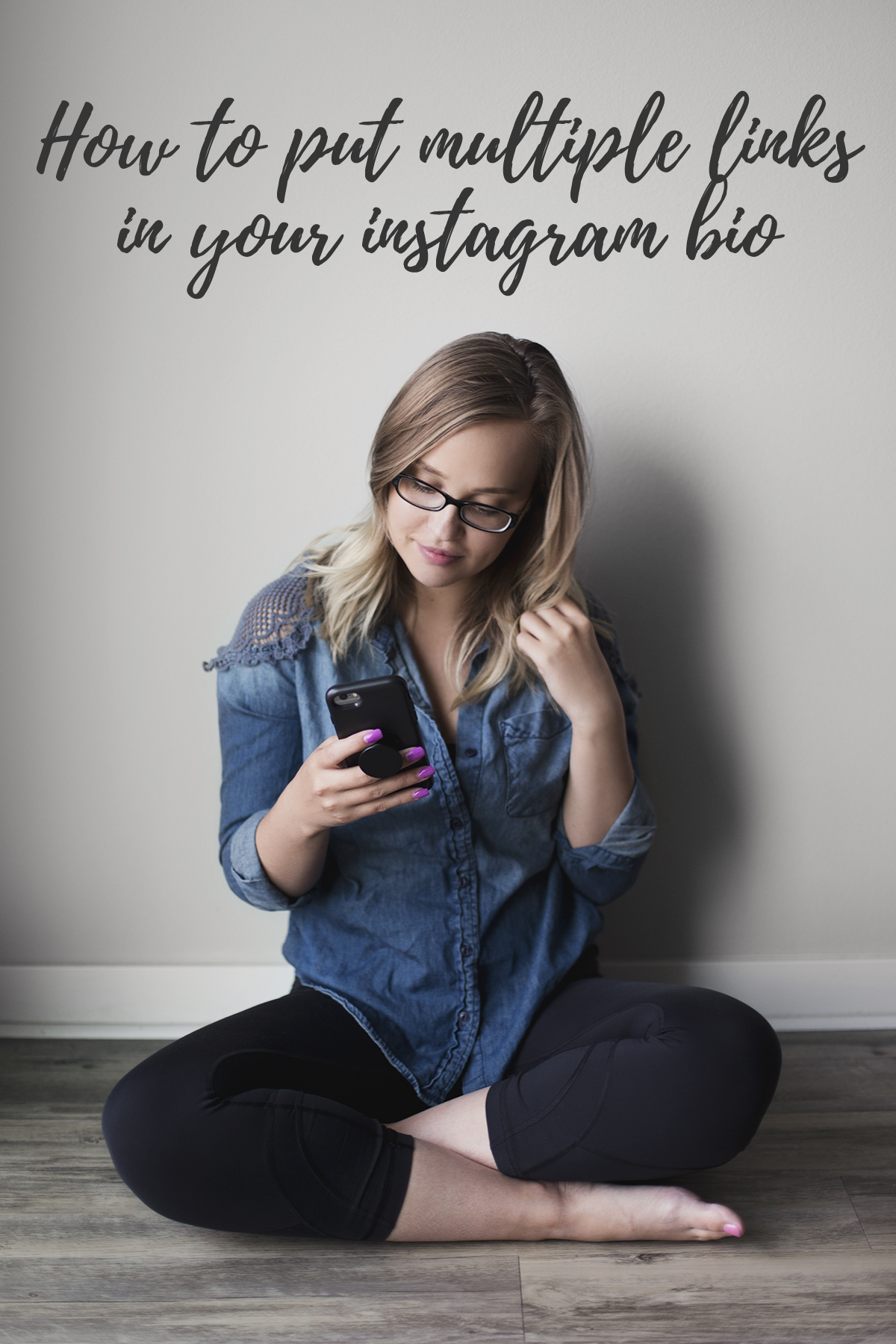 If you are on multiple social media platforms or run a business, this awesome tool can really help your traffic. Lynx in Bio allows you to put multiple links in one easy page for your instagram followers to click. Why have only one website link when you can have as many as you want? It can drive your instagram users to your website, etsy, facebook page, recent blog post, vlog, another instagram account, or any social media platform you can think of! Want to find out how many people are clicking your links? They include analytics with your profile as well! I'll show you behind the scenes on my account with screen shots for proof!
Here's my instagram:

You can see that the link is a short link which is my master link. Once you sign up on their site they'll walk you through the steps. Once you're logged into Instagram,  go into your profile click "Edit Profile" and put your personal Lynx in Bio url next to "Website" in your instagram settings. It's super easy to put in. If you are confused you can contact Lynx in Bio or you can go to my Contact Us page and I will gladly help!
Here's what that link looks like: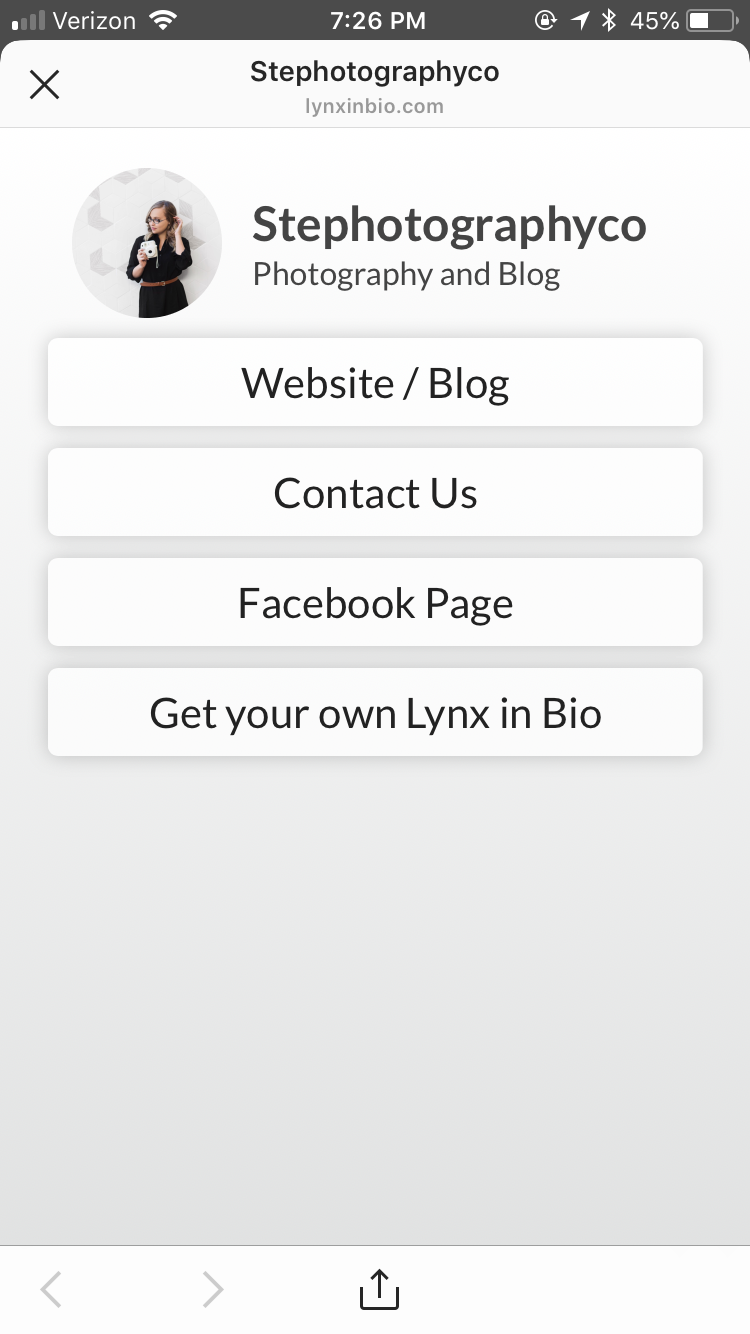 Do note that I personally put in the last link! I was so happy to get this that I wanted to put in that link for everyone else to get their own like me! The top is my title and I used my instagram user name, underneath is the subtitle which I put "Photography and Blog" because I thought it was fitting. You don't have to put one if you don't want to. You could put your full name if you wanted to as an idea of what else you can put there. Next are my links. I put the link to my website/blog. It was important for me to do that because before Lynx in Bio, I had my website there. Next I put my link to contact me because I want it to be easy to contact me even if it's repetitive. It's annoying for me when I am on a website and I can't find the contact or support page. Third link I put my Facebook page for my business. I do not have a Twitter and I always end up deleting my Snapchat so that's the only social media link I currently have on my Lynx in Bio page. Other great examples for other links are recent blog posts, a specific blog post or website page, google calendar, your etsy account, your youtube channel, VSCO editing app, a link to subscribe to your weekly or monthly newsletter, a LinkedIn account. The list can go on and on. There's so much use for this, seriously! The last link again is something I decided to put in, not Lynx in Bio. I wanted it easier for my friends to sign up and get one for themselves.
Next is my editable content page through the Lynx in Bio website once I am logged in:

This is the content slide where you get to put in the info and links. The top is the master link they first give you. Click the pencil mark under the master link to change it to your instagram username or any username if it's available. Under that is the title then the subtitle. You get to pick what goes in here. Then there's a button to upload a profile picture. You can pick any image but I chose my current profile picture on my instagram because I wanted it to flow. Here's a screenshot of when I changed the link to my custom username.
Just type what you want and hit save. If it's not available the site will let you know.
Now look at how pretty my Instagram looks now with that simple adjustment:

Next on the content tab is where you put the links:

Once you've had your Lynx in Bio it's show you the clicks to each link. I've had this a week now so those are my analytics on each of my links. At the bottom is an example on how to create a new link. Simply name your link on the new link name line. The next line is where you'll put your url for the link. Then click the circle plus sign on the bottom right and it's all set! As you can see I started with my Website/Blog because that's most important to me, then contact, then Facebook, and last my link for others to get Lynx in Bio.
The next tab is the style tab:


Here you can play with your theme, icons, and footer.
The theme's to choose from are:


For this example, I picked "soft colors" which is this pretty pink to darker purple ombre. I also clicked to "Show Icons" to on to show you.  So all but my Facebook link have the little world icon. Facebook has their normal F icon we all know to be Facebook.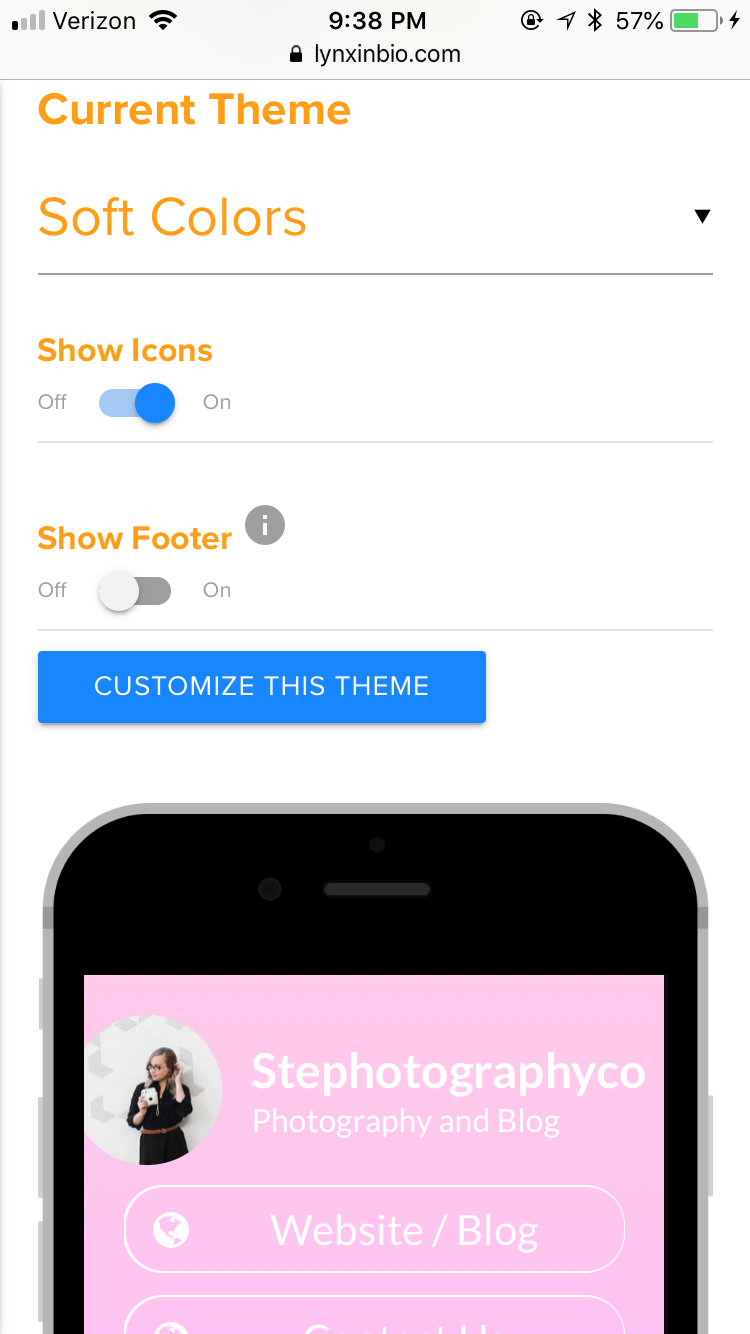 Here's what the site looks like if you choose "custom" under Theme: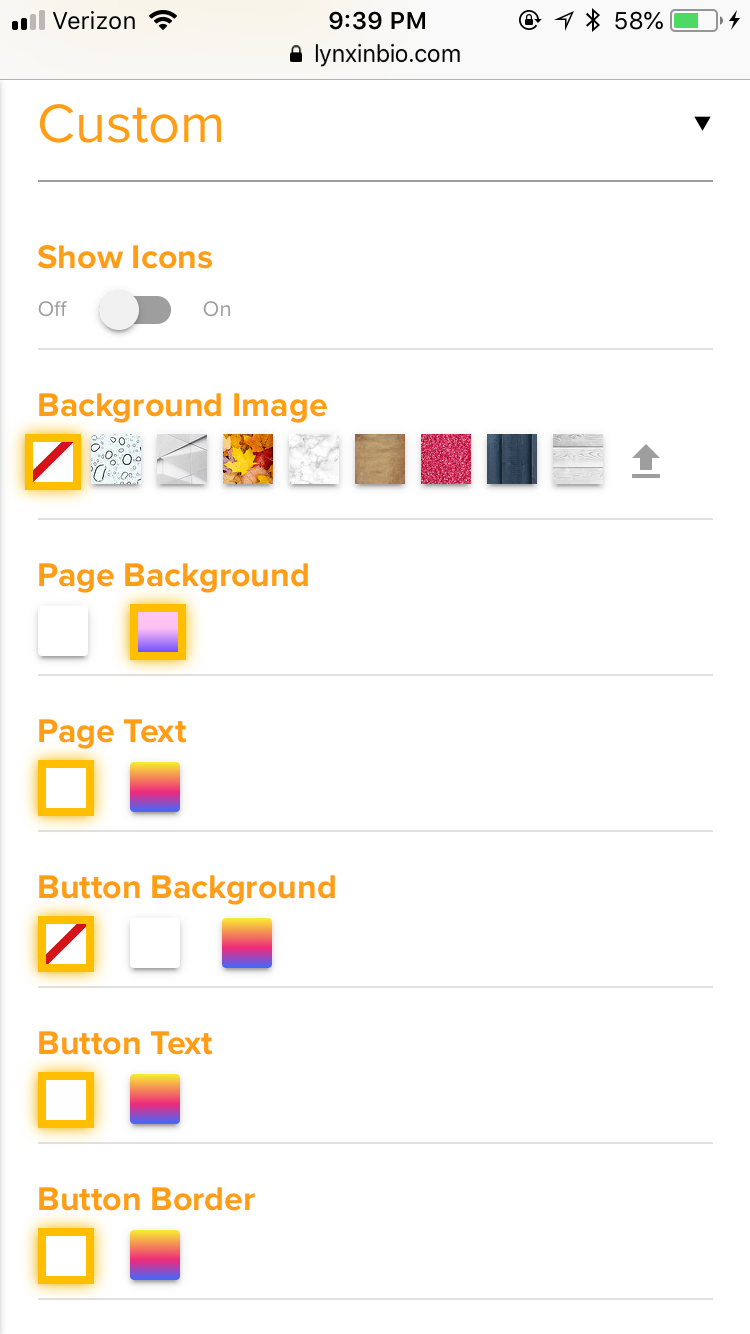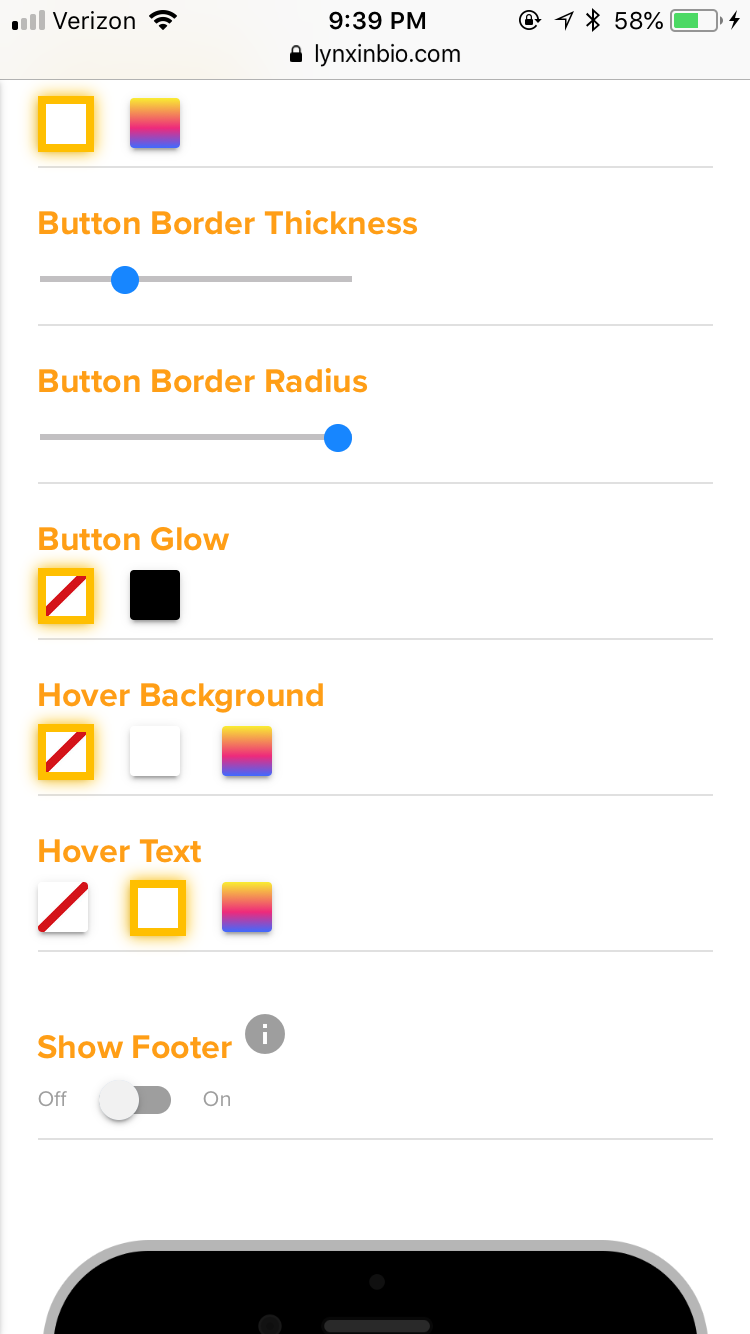 I didn't mess with this any further but this is where you can change specific things about your theme to make it even more custom to your preference.
This is what your Lynx in Bio page will look like if you pick to show the footer:


I obviously don't have it on because I have my own link. But maybe one day I will keep it on so I can make it stand out on it's own. But I just do what to make it clear that you do not have to have this on and you do not need to put your own link for Lynx in Bio like I did. At the bottom you can pick to see how the screen will look like with a shorter phone dimensions.
The third tab is the analytics:


There's only two options on here and that's daily stats which goes a whole 30 days out and there's monthly. This will be fun to see in a year from now and see my progress. I think this is awesome and I think anyone can benefit from Lynx in Bio. Wether it's for personal or business, this can bring traffic to the links and make it easy for your followers to check you out on multiple platforms.
There are two packages they offer. The first offer is Basic which is free. Basic includes up to 5 links, random url short code (not custom like mine), basic click tracking, and standard theme selection. Pro is their second offer which is what I have. It's $5 per month. You can pick a 7-day free trial to test it out! I looooove free trials! It includes unlimited links, custom URL short code (how mine says stephotographyco), support fo a custom domain (e.g. links.yourname.com), advanced click tracking, advanced theme customization, custom background image support, and the capability to remove the footer. You can also save 33% if you do the yearly billing of $40 per year!
If this is what you choose to do with your business you can write off what you spent on Lynx in Bio. Gotta love write offs!
If you haven't clicked any of the other links above, click here to get your own Lynx in Bio.
To visit my Instagram click here.
To visit my Facebook page click here.